but, I get the sense that we are going to lose Dr Mickey Nardo soon, and just want to say, it will be a loss.  My sincere and genuine condolences to his family, I hope he got out of the hospital before he passes on to another level of existence.  Sorry, people should not die in hospitals, that is not said to be at all insensitive, but, I believe in choice, and those who can have it should be allowed it.
I got nothing else for now, wonder if I will ever hear CCR the same from what was shared today by a colleague involved in the family Facebook.  First song I heard when I did a Pandora play list earlier today after hearing of Dr N's status:
Happy thoughts to you, Mickey, maybe I'll get a chance to talk to you in future times, if there is an afterlife that thinks we share common ground…
addendum:  this was the picture his daughter Abby put at the post announcing his death, and I think it a classic, like the music he liked, so, I add it to this post and hope it gives readers a sense of the man?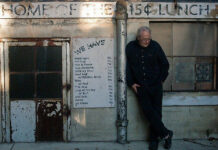 sorry it is a bit blurred, the original was just too small to appreciate the shot, but I scaled it back down a bit so the quality is better overall.  Go to the site and see it in it's full glory,